Fellow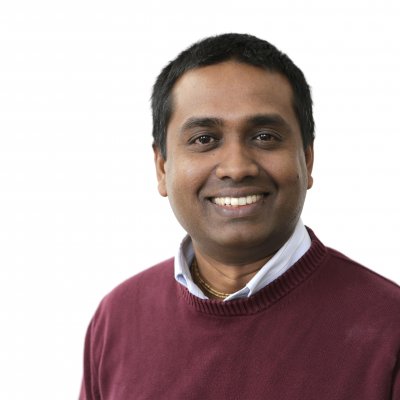 Venkata Satagopam
Research Area: Computer Sciences and AI Systems
Contact
Office: 1|403 (FIAS)
Phone: +49 69 798 47651
Vita
Dr. Venkata Satagopam is a FIAS Fellow; Senior Research Scientist and Deputy Head of Bioinformatics core facility, LCSB, University of Luxembourg; Technical Coordinator (TeC) of ELIXIR-Luxembourg Node and CTO & Co-founder of ITTM S.A. Luxembourg.
Before joining LCSB, between 2004-2012 he worked as a Senior Bioinformatics Scientist at the EMBL, Heidelberg. Before EMBL he worked as a Bioinformatics Scientist at LION bioscience AG, Heidelberg from 2001 after obtaining Masters in Pharmaceutical Sciences from Andhra University, Visakhapatnam, India.
The main objective of his research is to envision digital health by combining information technology solutions, data science and bio-medical informatics research. Towards this goal, he is working on different multi-disciplinary, highly collaborative research projects that involve large data integration and knowledge management; clinical and translational data curation, harmonisation, integration and analysis; dynamic visual analytics; text-mining; deep learning and advanced machine learning technologies and high-performance computing (HPC). He obtained his PhD from Technical University Munich (TUM), Munich, Germany in the field of Bioinformatics.
He is an associate editor of Frontiers in Systems Biology, co-chair of ISCB Education Committee as well as ELIXIR Health Data Focus Group, executive committee member of several European projects and Data Access Committees (DACs) involved in the organisation of several conferences, workshops, code/data hackathons. He has successfully attracted third-party funding (e.g. Horizon 2020, Innovative Medicines Initiative (IMI), Innovative Health Initiative (IHI)) and Fonds National de la Recherche (FNR), Luxembourg.

At FIAS Dr. Satagopam is engaged in the research focusing on secure data management and ML/AI analysis of heterogeneous clinical and translational data in content and format e. g., clinical data, molecular data, imaging data, sensor/mobile data, real world data, socio-economic data and associated meta-data.
Publications:
https://wwwde.uni.lu/lcsb/people/venkata_satagopam
ORCID: https://orcid.org/0000-0002-6532-5880
Google Scholar: https://scholar.google.de/citations?user=zKw3joMAAAAJ&hl=en