Senior Fellow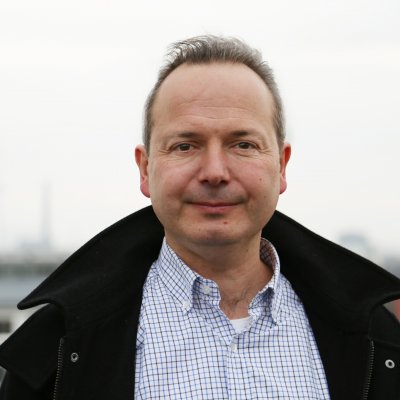 Prof. Dr. Marcus Bleicher
Research Area: Theoretical Physics
Focuses: Astrophysics, Cancer Research, Heavy Ion Physics, Nuclear Physics
Contact
Office: 3|09 (GSC)
Phone: +49 69 798 47506
Vita
Marcus Bleicher, Professor of Theoretical Physics, was born in Frankfurt in 1970. He received his doctoral degree from the Goethe University in 1999 and his Habilitation in 2007. He spent his post-doctoral years at the Lawrence Berkeley Laboratory (LBNL), Berkeley, USA as a Humboldt-Fellow with Volker Koch and Jorgen Randrup and at the Laboratoire de physique subatomique et des technologies associées (SUBATECH), Nantes, France with Jörg Aichelin and Klaus Werner. From 2003 to 2009 he was a Junior-Professor. He was appointed as a (tenured) Professor of Theoretical Physics in 2010 at Goethe University.
He was the Scientific Coordinator at HIC for FAIR from July 2008 to September 2011 and was then elected as the Scientific Director of HIC for FAIR from 2011 to 2015. He has been a (Senior-)Fellow at the Frankfurt Institute for Advanced Studies (FIAS) since 2010 and has served as Member of the Board of Directors of FIAS from 2014 to 2017.
His main research topics are numerical transport simulations of heavy ion reactions to understand the properties of QCD-Matter at extreme densities and temperatures, e.g. the Quark Gluon Plasma as they are encountered in experiments at GSI/FAIR, RHIC and LHC.
Professor Bleicher has published more than 200 refereed articles and his work has received more than 9000 citations (INSPIRE-HEP).
Detail
At FIAS:
2014 - today Senior Fellow
2014 - 2017 Board of Directors
Further organisations
2010 - today Professor of Theoretical Physics (tenured), University Frankfurt
2011 - 2014 Scientific Director, Helmholtz International Center for FAIR
2010 Board of Directors, Helmholtz International Center for FAIR
2010 - today Steering Board, Extreme Matter Institute, GSI
2009 - today Executive Council (Board of Directors), Helmholtz Graduate School
2003 - 2009 Professor of Theoretical Astroparticle-Physics (TT), University Frankfurt